South Dalmatia Boat & Bike Tour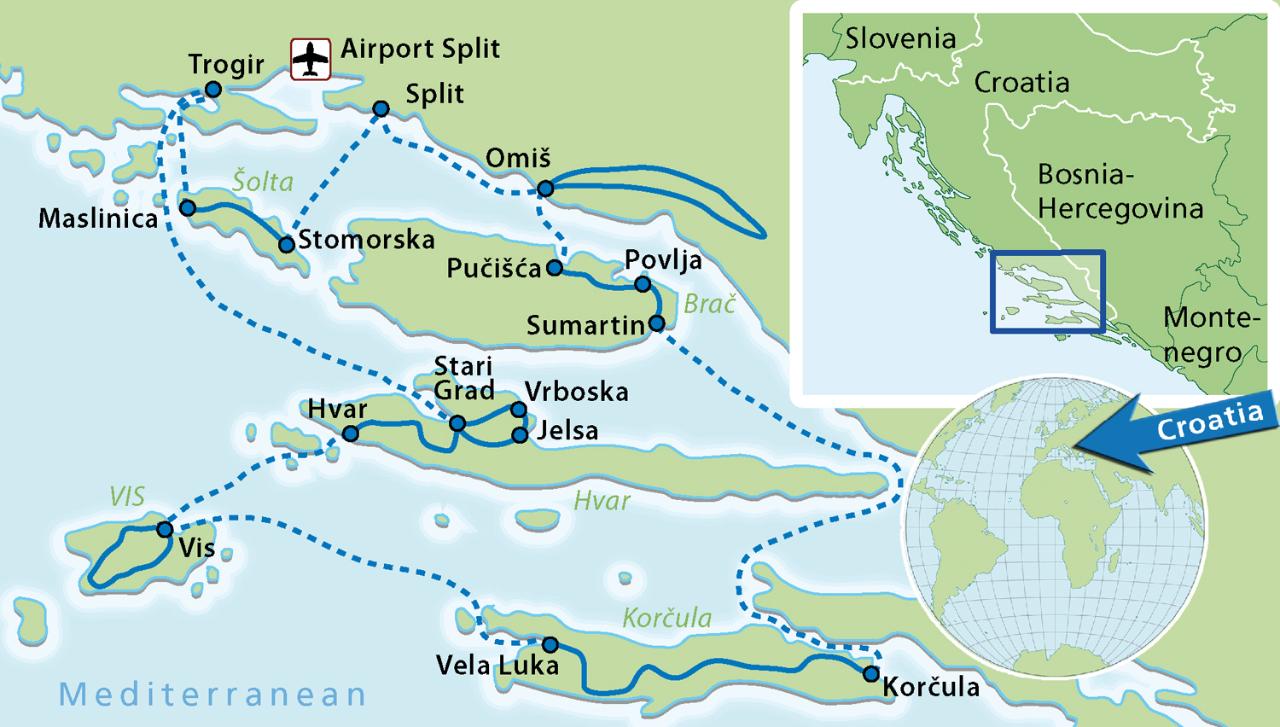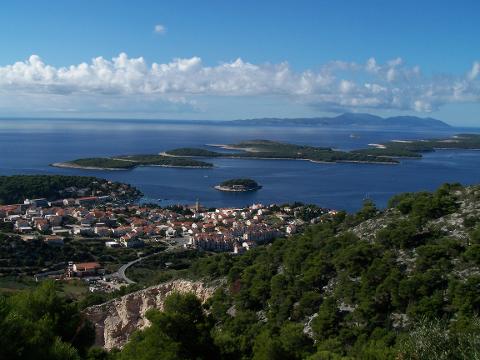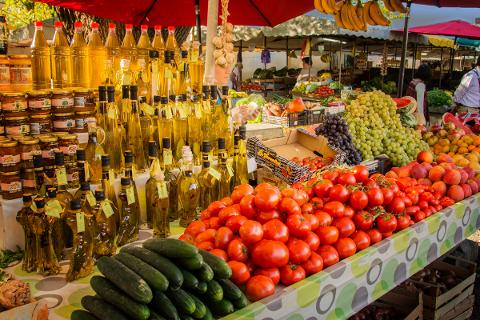 Duration: 8 Days (approx.)
Location: Trogir, Croatia
Product code: DAS001
Highlights
Visit the stunning island of Hvar and wander amongst the Spanish buildings
Experience why the World Heritage listed old town of Split has become a must visit in Europe
Cycle around the most beautiful of the Dalmation Islands, Korcula
Swim (daily) from the back of your ship in the temperate, crystal clear waters of the Adriatic
Graded as medium cycling, there are some climbs (up to 400m ascent on day 3 and 300+ on day 5) on this itinerary, but you always have the option to stay on the ship for the day, enjoy a swim, read a book on the sun deck or wander around the village where the ship is docked for the day.
1st Day (Sat) Trogir (Embarkation) – Island Brač
Individual arrival to Trogir which is about 5 km away from Split. After check in the first cruise starts about 3 pm from Trogir to Brač Island. Overnight stay in the sedate harbour of Milna.
2nd Day (Sun) Islands of Solta and Hvar (aprx. 20 km + 20 km)
After crossing over to Stomorska on the island of Šolta we commence our first tour. Walled fields, numerous olive groves, locust bean and fig trees line the roads. The herbal scent of rosemary accompanies us along our tour across the island. After cycling around the island we return to our ship in Stomorska and cross over to the lovely natural harbour of Stari Grad. Our afternoon cycling tour on the Island of Hvar leads us through the quaint harbours of Jelsa and Vrboska. Afterwards we return to Stari Grad, which has become a Mecca for artists and art lovers in the past few years.
3rd Day (Mon) Islands Hvar and Korčula (aprx. 22 km)
Today's tour leads us along the almost traffic free pass road through nicely set small villages to the island capital, Hvar, where we visit the magnificent Renaissance Square and enjoy the view from the Spanish Fortress, situated high above the city. After today's tour the boat takes us to the gorgeous Island of Korčula. Overnight stay in Vela Luka.
4th Day (Tue) Island Korčula (aprx. 60 km)
Today we discover the island of Korčula by bicycle and enjoy our lunch break in one of the local restaurants. The calmness and remoteness of the vast vegetation and cypress gardens have given shape to possibly the most beautiful of the Dalmatian islands. Our cycle tour leads us via the village of Blato, likened to a mini Rome, along a pass road across Pupnat bay and finally to Korčula town, where we have time to take a walk through the wonderful old town with its narrow "fishbone like" alleys. We stay overnight in Korčula town.
5th Day (Wed) Island Brač (aprx. 27 km)
Today we cruise to the island of Brac, which is famous for its radiant marble that was, among others, used for the White House in Washington or the Reichstag building in Berlin. After an extended swim break followed by lunch, we start our cycling trip in Sumartin, leading us to Selca and onto the picturesque harbour town Pučišća.
6th Day (Thu) Omiš - Split (aprx. 25 or 44 km)
After a morning crossing to Omiš we cycle through the valley of the Cetina River which is surrounded by steep rocks. After 18 km we have the choice to take part on a four hour rafting tour on the Cetina River (not included in the tour price) and afterwards a small cycle tour of about 8 km back to the boat - or to expand the cycling tour (no rafting) to 44 km along small side roads and versatile landscapes until reaching Omiš and its pirate castles. In the afternoon our ship takes us to Split. The old town of Split, built adjoining the famous palace of the Roman Caesar Diocletian, is a world heritage site and is a stunning city. Overnight stay in Split.
7th Day (Fri) Split Marjan (aprx. 15 km)
In the morning we prepare for our last bike ride to Mount Marjan. A popular recreational site for the residents of Split, which offers fantastic views of the city and the surrounding islands. Afterwards we board the ship and enjoy the last crossing to Trogir past the cliffs of the Čiovo peninsula. There is still plenty of time to visit the Old Town of Trogir, listed as a World Cultural Heritage site. The last evening aboard our ship is celebrated in traditional fashion. While enjoying the communal dinner in a celebrative atmosphere we will have the chance for a last get-together with our crew and tour guides.
8th Day (Sat) Trogir (Disembarkation)
After breakfast disembarkation until 9 am and individual trip home or extended stay in Dalmatia/Croatia.
Level 3
This cycle tour requires at least basic level of fitness, which they should have acquired from steady cycling. The tours will take us up to a height of 650 m above sea-level with some long but not particular steep climbs. Distances vary from 20 to 60 km and will take us through hilly and mountainous terrain and will be completed without any time-constraints. Participants will also need to master long and steep climbs, during which they are, however, also permitted to push their bicycles. We traverse mostly asphalted roads, which are rarely traveled on outside the holiday seasons. You are free to set aside a half or full day to swim or spend on board the boat, instead of taking a planned cycle tour. Helmet use is mandatory on all cycle tours. You are strongly encouraged to bring your own (well-fitted) helmet. Rental helmets are available in limited numbers (reservation requested).
Children
We believe that only children in a good physical condition and with a minimum age of 10 and previous bicycle tour experience are able to master the cycle tours on their own strength. Please note that the minimum height for a rental bike is 1.20 m (4 ft.). There is a helmet duty for all children up to age 16 in Croatia.
Ship - Premium Ship ROMANTICA (all cabins with shower/toilet)
At 32 x 7.6 m the Romantica was launched in 2007 and is a shapely two mast motor yacht which combines seafaring romance with the spirit of the age, style and comfort. One of the most important things for the captain is the smart appearance of his ship. Both salon and exterior have upscale facilities with a lot of fine details: the salon tables are decorated with noble intarsia, the corresponding benches are covered with precious, sun yellow leather. The large sundeck on the Romantica offers plenty of space to settle back and enjoy the sun.
Catering
The cook on board is a member of the crew and prepares the breakfast and and or two warm meals a day. The catering consists of 4 x full board and 3 x half board. Catering starts with the dinner on the arrival day and ends with the breakfast on the departure day.
Language
Due to our international audience all Islandhopping tours are conducted bilingually, in English and German.
Inclusions
· 8-day trip on a premium ship (as above or equivalent) with crew

· 7 nights in a double cabin below deck with shower/toilet
· 4 x full board and 3 x half board (option to have a picnic for lunch)
· Guided cycling tours and sightseeing as described in the itinerary
· Overview-maps for the daily tours (on board)
· Bed linen and towels