Tour de Piedmont Gourmet - Italy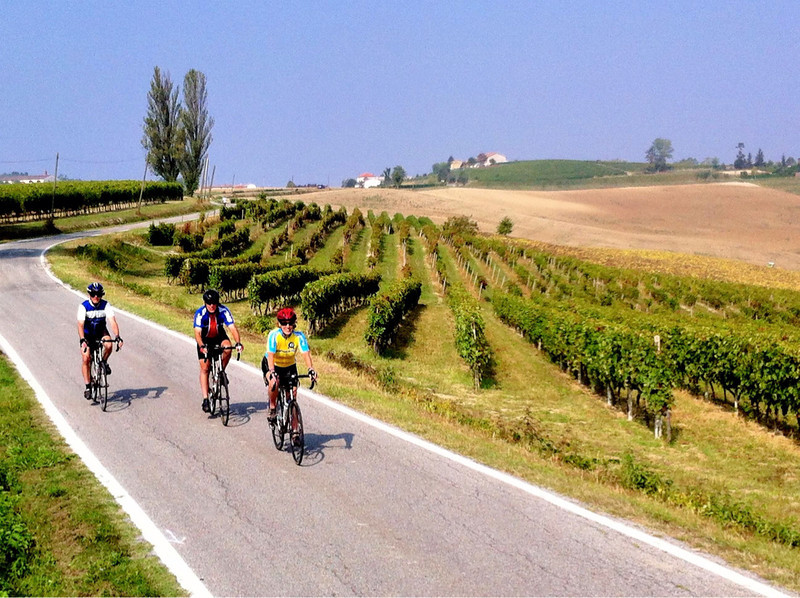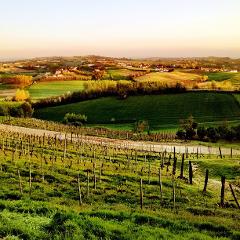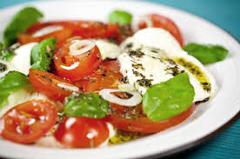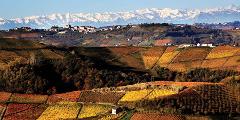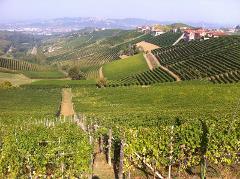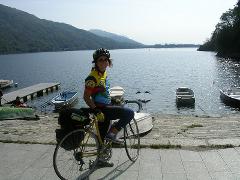 Duration: 8 Days (approx.)
Product code: PUVJK1
Tour Highlights
Superb Piedmont vineyards & wine tasting at historic cellar doors
Incredible gourmet regional cuisine
Exploring the stunning Langhe region, with the Italian Alps vista
Our two nights in Pollenzo, center of the "Slow Food" movement
3 x 2-night stays means less time packing and more time exploring


2016 Tour Dates: June 11-18; Aug 13-29; Sep 3-10; Sept 24-Oct 1

Day 1
Gather today in Saluzzo, just west of Turin. We'll fit bicycles this afternoon, then you're free to explore town or to take a warm-up ride. This evening, we'll celebrate with a traditional Piedmontese dinner together.
Distance: 12kms
Lodging: Antico Propere Propano
Highlights: Village Salluzo, wonderful Alp views
Day 2
Majestic Monviso mountain rises above the Po River on the border between France and Italy. Our route takes us to the base of the mountain today; those who want can climb it to Crissolo or as high up as the Po River spring-a
6,000 foot climb into the Alps Others can enjoy an easier loop ride along the Po and on to the Abbey of
Staffarda. Whichever you choose, we'll be back in Saluzzo late afternoon for a stroll through town and dinner of your choice.
Distance: 58-82 kms, depending on your choice of loop rides
Lodging: Antico Propere Propano
Highlights: Alpine climb, Monviso mountain, Abbey of Staffarda
Day 3
Heading east across the Po River valley today, you'll enjoy a ride through pasture lands, corn fields, and poplar groves. Along the way, we'll stop in Racconigi, where the Savoy royal family had their summer home and castle. The castle, now owned by the state, is beautifully preserved and dates to the 17th Century. Visit the castle on your own if you would like before continuing on through the Roero region to Pollenzo, a small village along the banks of the Tanaro river. Pollenzo has become the center of the world's first University of Gastronomic Sciences. Associated with Italy's well known "Slow Food" movement, both the University and the village of Pollenzo have become centers of innovation for international cuisine. Dinner together after a wine tasting.
Distance: 77 kms
Lodging: Hotel la Corte Albertina
Highlight: Riding in Roero,
vineyards, Racconigi palace, wine tasting, Slow Food University.
Day 4
A loop ride today takes us through the vineyards of Le Langhe and the famous hills of the nebbiolo grape. Along our route you'll pass through the stunning landscape of La Morra, as well as vineyards around Barolo, Monforte d'Alba and Verduno. The town of Barolo gives its name to the famous wine and has an interesting ethnographic and wine museum to visit.
Distance: 55 kms
Lodging: Hotel la Corte Albertina
Highlights: Bicycle through vineyards, hilltop towns, Barolo
Day 5
Today we'll pass through the vineyards that produce most of the other famous Piedmont wines, including Barbera d'Asti, Dolcetto d'Alba, Nebbiolo d'Alba, Barbaresco, and Asti Spumante. We'll also stop in Alba, the Piedmont's truffle hunting capital. Our destination is Asti, where dinner is together this evening.
Distance: 68 kms.
Lodging: Hotel Aleramo
Highlights: Alba, bicycle along rolling hills, Asti
Day 6
Sleep in this morning, as we'll be in Asti again tonight. Those wanting time off the bikes can spend the day strolling through Asti's medieval streets and have lunch at one of the local cafes, while others can take a ride into the Monferrato hills. Rolling hills and small villages mark today's ride. Enjoy dinner on your own in Asti this evening.
Distance: 38-61 kms
Lodging: Hotel Aleramo
Highlights: Optional loop ride into
surrounding hills, visit medieval Asti
Day 7
We head north today. Along the way we'll point out the Santuario di Crea, an important church for many Italian pilgrims, before reaching Casale Monferrato, once the most fortified towns in northwest Italy. Rich in Medieval
and Renaissance architecture, Casale was an important fortress guarding the Po and the eastern border of the French kings of Savoy. Join the locals for a popular stroll through town before we have our final dinner together this
evening.
Distance: 38-61 kms
Lodging: Hotel Candiani
Highlights: Small country roads,
fortified town of Casale Monferrato
Day 8
We say goodbye after breakfast this morning. Milano is just two hours away by train and the Lakes District is just a little farther. You can extend your tour by 3 more days on the Cycling the Piemonte Plus! Lago Maggiore add on option. Ask us for more details.