Tour de Tuscan Villages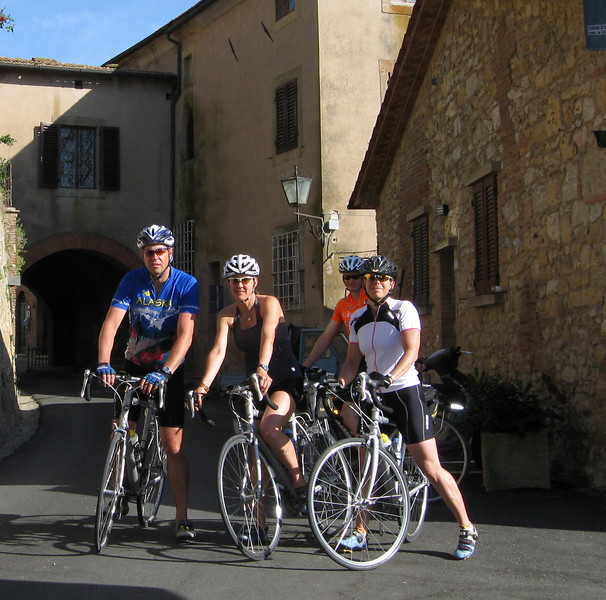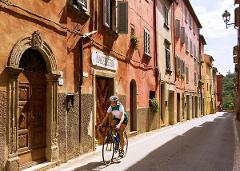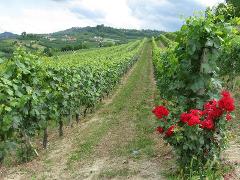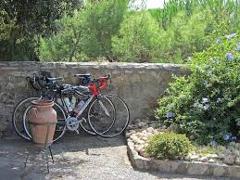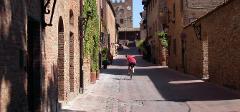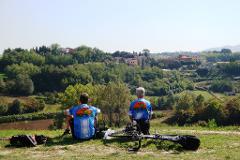 Duration: 7 Days (approx.)
Product code: PUUZAZ
Tour Highlights
Thermal spas, brilliant after a days riding with a wine in hand!
Fabulous Tuscan food grounded in olive oil, tomatoes, basil and
rosemary.
Ridge rides looking out across vineyards, cypress trees, olives
& the Tyrrhenian Sea
Etruscan ruins & age old Italian villages, well off the
beaten tourist path.
Three 2-night stays means less time packing and more time
exploring local villages.

2015 Tour dates: May 3-9, Sept 6-12, Sept 27 - Oct 3
Day 1
Arrive today in Casciana Terme not far from Pisa. Casciana Terme is one of Tuscany's many thermal spa towns. The Romans knew of the hot springs here and the Pisans built a minor spa here as early as 1311. It wasn't until the 17th century when the Tuscan aristocracy moved from the cities to the countryside in large numbers, however, that the present spa developed. Our hotel is close to the spa and we're happy to help you make reservations. We fit bicycles this afternoon and you'll have time to go out for a test ride if you wish. Dinner
is together this evening.
Distance: Your choice for the short warm-up ride
Lodging: Hotel Margherita
Highlights: Spa town of Casciana Terme
Day 2
Our loop ride today takes us to several of the villages around Casciana Terme. This is classic Tuscany in the Pisan hills with small hilltop villages, olive trees, vineyards and cypress trees punctuating the landscape on the horizon. For centuries this area was a border region among the historic rival cities of Pisa, Florence and Volterra. By 1509, though, Florence consolidated its control over the area. Our ride takes us through Lari with its sizeable 16th century Medici fortress. The villages in the area flourished under the Medici family as farm towns and for summer residents of the aristocracy from Pisa and Florence. Dinner is on your own this evening.
Distance: 41-49 kms, depending on your choice of loop rides
Lodging: Hotel Margherita
Highlights: Traditional Tuscan landscape, Medici fortress in Lari, hill towns of Tuscany
Day 3
Today we leave the rich farm villages of the Pisan hills and head south to ride along a scenic ridge. Small roads and sweeping views across to the sea lead us to the small town of Pomaia, famous today for the largest Buddhist study centre in Europe. Meditate as needed to prepare for the short 5 km (3 miles) uphill where we'll reach our highest point - the perched village of Castellina Marittima. A flat ridge and coasting descent brings us to our hotel. Dinner is together tonight.
Distance: 41 km
Lodging:
Antico Borgo San Martino
Highlight: Amazing views from atop the short ascent, it's worth the effort.
Day 4
We have another scenic ride in store today as we bicycle through the Maremma region of Italy, famous for its "cowboys" and small, medieval towns. The first part of our ride is along the coastal plain; this entire section underwent agricultural reclamation from the late 19th century through Mussolini's rule in the early-mid 20th century. Swamps were drained and roads and other infrastructure were built, and the region is now rich in olive oil and wine production. We pedal through the tiny fortress town of Bolgheri, famous for its red wines, including "Sassicaia". Talk with the locals if you can find one; according to one spry 89-year-old we met in the town square, there are only twenty-six residents left! Another gentle forested climb brings us to world-class gelato before a gliding downhill which customers have called, "the best ride in the world" and ends in a tiny stone village, worth a peek before continuing on. Our hotel pool is perfect for soothing tired muscles after four days of cycling. Dinner is together this evening.
Distance: 64 kms
Lodging: Hotel Calidario
Highlights: Wine village of Bolgheri, Maremma region of Italy, outdoor pools
Day 5
We've planned a casual bike ride today to give you a sampling of history and geography from the Etruscan time through the Renaissance. We head first to the ancient Etruscan port of Populonia, the most important Etruscan
port town. We'll have a guided visit of the tombs and the "industrial" area, learning about the Etruscans' practice of
metallurgy, where they mined tin and iron from local deposits and processed them into valuable commodities for trade throughout the Mediterranean. After our visit, you can ride to the village for the view, enjoy some beach time, have lunch by the sea, return to the pool or head off for some more mileage. Dinner is on your own tonight.
Distance: 25-60 kms, you decide.
Lodging: Hotel Calidario
Highlights: Etruscan sites, beaches, Medieval architecture
Day 6
Today's ride takes us into the interior as we follow several river valleys before heading south to the small hilltop towns of Gavorrano, Ravi and Caldana. We're headed to our agriturismo, a working farm that produces olives and wine while providing superb lodging and gourmet cuisine. A dip in the pool before a wine tasting overlooking the view is a perfect end to the day before dinner together.
Distance: Approximately 55 kms
Lodging: Agriturismo Montebelli
Highlights: Cycling remote country roads, wine tasting, staying at an agriturismo
Day 7
Time to exchange e-mail addresses with your new cycling friends before our tour ends after breakfast this morning. We'll provide a shuttles to the Grosseto train station where you can head off on further travels or back home. Enjoy your travels and thanks for joining us to explore the coast of Tuscany!
*Check out our Tour de Tuscany Villas Plus!, which extends this itinerary by 3 days.